Audio Streaming Hosting
Before we start let's talk about Audio Streaming Hosting!!
What is Audio Streaming Hosting?
Here, we all have listened to radio at some point in our life right. It's just the same but it is done over the internet. Technically Audio streaming is the act of delivering ongoing sounds through a network connection. Whether For listening to the audio clips, music, speeches, story etc. Audio streaming is getting very popular.
What are its advantages?
First and foremost advantage of it is to keep the audience stay into their site for a longer period of time. It takes only a few seconds to buffer and constantly plays which make listeners listen to it more. And because of this there is less likely chance of viewer to switch into other websites.
It provides high security so there is less chance of piracy. Because Streaming Media cannot be duplicated.
Also, another important advantage is that it is quite cheap. Delivering infos from an audio is much cheaper than video streaming. All you need is a microphone and some basic software for it and you are good to go.
Live Audio Streaming Hosting
What is it?
The thing is what we discussed above are all about Live Audio Streaming Hosting. This all happens in a Real-time. The main purpose of audio streaming is to perform it live.

Make Your Own Radio
Now let's get into the real point. How to create and set up an Internet Radio Station.
Using this Guide you will be able to create and setup a Internet radio i.e. your very first internet radio station using free tools.
Step 1: Choose what to broadcast on your station
The 1st step is to choose what to broadcast on your radio station. For starters, most of the people it is music that they choose. But you can include talking, speeches, stories, dramas, sounds, preaching etc. You can choose what you want after all its your station.
Step 2: Digitize your Content
In this step you have to take all your CDs, tapes and vinyl records and convert them over to a digital audio format. So how to do this? You can use third party converting software to do this. We can go with very common format, mp3. You put the file in converter software and choose mp3 to do it and the job is done. Why mp3 and not any other formats? Simple, an mp3 file as an audio recording format that compresses the sounds into nice & small file size. Also it strips away all the sounds that a human ear cannot hear. Which makes it nearly perfect for broadcasting.
Step 3: Download and install a software capable of broadcasting
Before that lets understand how Internet Radio Works
You have the contents on your computer. Your computer plays it and sends it to audio Streaming Server.
Audio streaming server resides on a powerful computer. Which is made available to anyone on the internet.
Then listener listens to the content that is playing through audio streaming server.
That's it.
Now download one of the most popular and free application used in internet broadcasting, Winamp. There are also many other free and paid software available. But winamp won't let you broadcast that easy, you need to download a plugin i.e. SHOUTcast Radio DSP plug-in.
Step 4: Determine which Audio Streaming Server to Choose.
You can use Audio Streaming Server like SHOUTcast, IceCast and many more. It depends upon you. Here we'll discuss about Shoutcast. In shoutcast there are 2 options available i.e. hosting the Shoutcast Server on the same computer where we setup our broadcast. Or renting a Shoutcast Server from a hosting Company.
Hosting my own server on my computer could save money but it has limits. Like limited listeners(depends on the speed of internet connection). There is a security risk if not setup properly.
If you choose a hosting company, there will be a huge internet connection that is capable of handling massive numbers of listeners. And the connection will be stable.
Cheap Internet Radio Hosting
TooFan Provides Cheap Internet Radio Hosting services for a premium broadcasting experience. TooFan packages are specifically designed for large publishing companies, media groups and brands with high audience stations. And also for small ones. There SHOUTcast and Icecast Hosting plans are cost effective and suits to every organization needs. Also they can provide custom SHOUTcast and Icecast hosting plans according to your requirements. And their planning packages are pre planned in a way that it fulfills every need.
Besides Audio Streaming Hosting TooFan also provides many services as Web Hosting, Web Design & Development, Audio Production & Video Production, SEO, Social Media Marketing, BPO Services, Domain Services and many more.
Then sign up for the server. After signing up, the company provides you with the information on that particular server you choose. That information includes information for a control panel so that you can start your server or change the settings according to /if your need.
Step 5: Configuring the Shoutcast DSP settings in winamp to begin broadcasting.
Start Winamp and open Preferences. Click on "DSP/effects" subcategory under the Plugins tree. Click on "NULLsoft Shoutcast Source" then click "configure active plugin".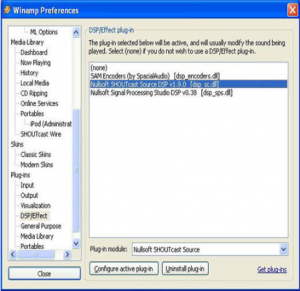 Now,
a. Click on "Output" tab and check the box that says "Connect At startup".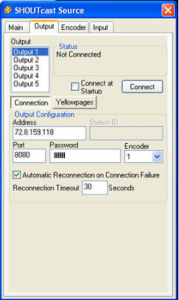 b. Input the information provided by hosting company i.e. server IP, port, password etc.
c. Click on "Yellowpages" Button and fill out the information i.e. station name, etc.
d. Now click on "Encoder" tab and make sure "Encoder Type" is set to mp3.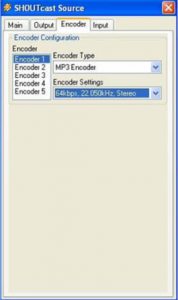 e. Click on "Output" tab again and verify that the information in the "Status" section "Sent". And you are finally broadcasting.
Wait, sometimes it may show error messages. If that's the case then make sure that any firewalls that you have are set to be open on the "port" that was assigned by your hosting provider.